Family Special value Segway PT tour in Lahaina
Come together as a family and make your spirits soar to the zenith with awe-inspiring views of the historical monuments, ocean and the sun on this Family Special Segway PT tour in Lahaina; the best of the historic Whaling town of Maui – Lahaina. Family Special value Segway PT tour in Lahaina has been created to help out families with kids to save money and be able to do more vacation activities. The town is crammed up in hot spots with many art galleries and a variety of unique shops and restaurants, and you with your family get to experience this in an amazing way on a Segway PT guided tour. you can enjoy a lot of Maui's most popular sights and attractions at a much quicker pace, but still get the relaxed atmosphere of a walking tour. Your guide will stop at the key landmarks and provide commentary, and you'll have many opportunities to take pictures to fill up your family album.
---
Tour Highlights:
Save $80 for your family!
Experience the best of Lahaina in a fresh way – on a Segway PT!
Communication radios – you hear everything our guide will say during the tour
Receive expert instruction & training on how to ride a Segway PT
Glide along the famous Front Street on your Segway PT Tour in Lahaina and soak in the picturesque views of the history, ocean and sun
See top Lahaina attractions, like the Banyon Tree, Court House, Lahaina Harbor and more
Take stops on your Segway adventure to take pictures of Lahaina's key landmarks
Enjoy expert commentary on Lahaina and its surroundings from your Segway guide
Select your favorite photos from your tour and let us print and frame them for you. We take and print high quality digital images with high quality equipment or purchase all high quality pictures on CD or USB.
Get HD video from your tour on a DVD or Blu-Ray, we add Hawaiian music and special footage to your disc.
10yrs-16yrs – need to be accompanied by a parent or a legal guardian during tour
16yrs–18yrs – can go alone but a parent or a legal guardian needs to sign the waiver.
18yrs and up need to sign waivers by themselves.


---
Check in time: From 7:30 am – flexible based on availability

Included: Helmets, reflective safety vest, personal radios, Segway PT

Recommended to bring: closed shoes, sun screen, sun glasses
---
Age Restrictions – IF UNDER 18: 16 years and younger, but minimum 10 years old, must be accompanied by a parent, guardian, or chaperon on a tour. (Chaperon form is required.) Guests between 16 and 17 years old must have a parent or guardian present at check-in and sign waiver to participate.

Weight Restrictions: Weight restrictions are between 85 lbs and 260 lbs for Segway Tours. Weight limits are strictly enforced, and each guest might be weighed at check in.

Health & Physical Requirements: All guests must be capable of moderate to advanced physical activity, must be able to step on and off the Segway PT without assistance which requires physical abilities similar to climbing and descending stairs without the support of a handrail or other walking aid. • Guests must not have neck, back, shoulder, knee, ankle injuries, heart conditions, or recent surgeries. • No pregnant women will be allowed to ride a Segway PT. Persons under drug or alcohol influences will not be allowed to ride a Segway PT. • Guests must be physically and mentally capable of following instructions given by a Segway guide.

Cancellation Policy: If the tour is cancelled by the tour operator, the full ticket price will be refunded. Cancellations prior to 48 hours are charged a minimum $10.00 per person administration fee. We charge 100% for No Shows or cancellations within 48 hours. Riders may be responsible for all damage to equipment if such damage is determined to be the result of reckless and irresponsible operation by the guest. Online reservations need to be scheduled at least 72 hours prior to the tour and need to be confirmed by phone (808-661-8284 ) for exact time and date.

Click on Segway Maui logo to see detailed information about rider's requirements 
---
In a case you are planning to use Maui Public Bus Transit System
The County of Maui currently funds a public bus system that provides service in and between various Central, South, West, Haiku, and Upcountry Maui communities. All buses are equipped with a bicycle rack. Bus Schedule
---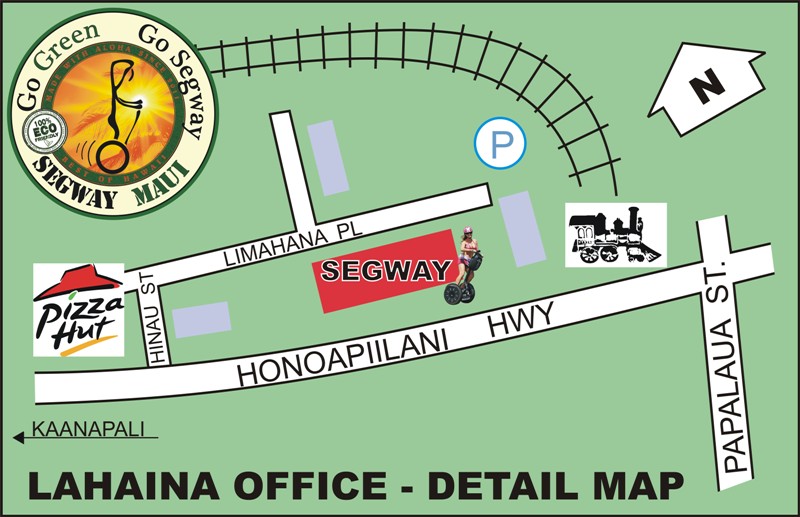 LAHAINA OFFICE – DETAIL MAP – FREE parking on the Limahana street.