Lahaina shuttle for SegwayMaui tours to make your SegwayMaui trip without much hassle.
Segway Maui is a family-owned business. It has been established in 2011 and that time it became the first company on Maui to offer eco-friendly Segway Tours on Maui. Segway Maui has been a 5 Star Trip Advisor 'Certificate of Excellence' holder since then.
Call for a Segway shuttle if you need transportation from or to our location, we are here to help you.
Door to door transportation is available during the booking process for .98 Round Trip / person
The Lahaina shuttle is also available during the booking process for Round Trip / person.
Additionally, Segway Maui has introduced the Segway PT to the islands of Hawaii as an alternative solution to transportation to help reduce congestion and pollution at a time when fuel costs has continued to rise and environmental awareness has been on the minds of many Hawaiian citizens.
The Segway PT offers riders the ability to charge the Segway PT with less than 20 cents of electricity and provide a range of up to 24 miles on a single charge. In addition to providing a green alternative to daily commuters and errand runners, the Segway PT can be an invaluable tool for law enforcement, security, and many other types of large and small business.
In addition to being stewards of the environment, Segway Maui has introduced Segway Tours on Maui. Throughout the world Segway Tours allow interested people the opportunity to experience the amazing thrill of riding Segway PT's without having to purchase.
Prices shown include round trip per person based on a minimum of two people. (The price for a single traveler is equal to the rate for two people).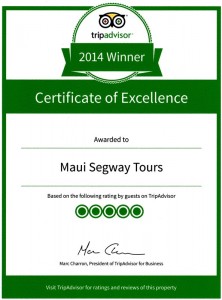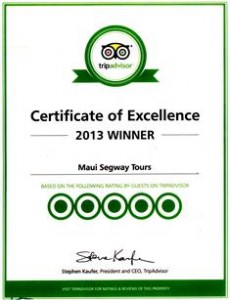 *Not combinable with other discounts, eligible with direct bookings only.
LAHAINA OFFICE – DETAIL MAP – FREE parking on the Limahana street.